They came, they saw, and made their contribution
Today marks the 171st anniversary of the arrival of East Indians to the then British Guyana from the Indian sub-continent. After braving the torturous and turbulent oceans for months under sub-human conditions, the first batch of East Indians from India, called Indentured Labourers came to British Guiana aboard two steamships, "Hesperus" and "Whitby" on May 5, 1838.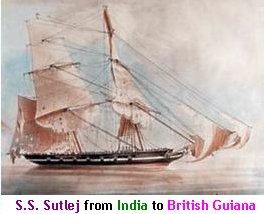 The steamship that made the highest number of voyages was the s.s. Sutlej which made ten journeys between 1908 and 1916. the sailing ships

Their toil, sweat and struggles over the years later brought recognition and today is being celebrated as 'Indian Arrival Day'.

Indeed the journey was long and brutal. Many of the Indentured Labourers fell sick and those who could not defy death, were unceremoniously dumped overboard. This was what the East Indian Immigrants went through in their blind date for fortune in the West Indies.

We must however salute the heroism of these people, who for some three quarters of a century kept coming to the shores of the West Indies including Guyana to fill the void left as a result of the mass exodus of slaves following the abolition of slavery, and especially the premature termination of the apprenticeship scheme in 1838.

In the period 1838 to 1917, a substantial number of Indian Immigrants were imported to the English speaking Caribbean, and some 238,909 of them had arrived in British Guyana up to the time the system was terminated in 1917.

They continued to work on the sugar plantations, and paved the way for their off-springs today to make Guyana their home. Indeed they worked and lived under a harsh and cruel system which served only the Plantocracy and their masters in England to whose cause the Indentured Labourers were bound.

In his booklet: Rooting for Labour, Late President of Guyana, Dr. Cheddi Jagan wrote about the atrocious conditions on sugar estates and noted: "In those days workers lived in logies which were built in the slavery and indentureship periods. There were pit latrines, nothing like the ones we know now or septic tanks and other facilities. Pit latrines over the trench; and when the rains came the whole compound in several estates used to be totally flooded and people had to move around in boats.
167 years ago Canada-civilian-award Dhanwantie-Phulchand-chopped

"On one such occasion, I remember going to the compound at Lusignan to the manager: His compound was dry. I asked him why can't he use the same pump that he was pumping to clear his compound to clear also the compound of the workers. His answer was: 'Jagan, do you know you are trespassing?'"

These conditions on the plantations persisted for years unending and the genuine workers' struggle began with Dr. Jagan in the forefront fighting for improved living conditions, justice and fair-play for sugar workers which were eventually won over time, and some off-springs of the Indentured Labourers have carved a name for themselves in mainstream society today.

The people note, for instance, that Dr. Jagan himself was the son of Indentured Labourers and once lived in the logies at Port Mourant in Berbice.

The East Indians who came to British Guiana, now called Guyana, have indeed come a long way. They came with their cultures, traditions, religions and values, which have over the years, through thick and thin, welded them together.

They have integrated themselves into what we call in Guyana a plural society, a society with diverse religions, cultures, traditions, races and political persuasions.

Today is a day of special significance to them and all Guyana join in celebrating with them under the theme: One People, One Nation with One Destiny.
Happy Arrival Day to all!

The Coolie Ships
By Evan Radhay Persaud
At the beginning of the Introduction to his notable work "Sugar Without Slaves: The Political Economy of British Guiana, 1838-1904," Alan Adamson posited that the principal themes of Guyana's post-emancipation history have to do with "the survival of sugar as the dominant crop, of the plantation economy as the dominant system of production, and of the sugar planters as the dominant social and political grouping".

In the wake of the abolition of slavery and under the conditions of emancipation, the freed slaves were bound as apprentices to their erstwhile masters for four years. After the loss of their cheap labour following the premature termination of the Apprenticeship System in 1838 and frustrated by the increasing reluctance of their former chattels to return to the plantations to work for low wages, the desperate planters sought to avoid ruin by importing bound labour from several places including the sub-continent of India, then largely under British rule.

The arrival of indentured labourers, especially those from India, enabled the planters to establish sugar as a monoculture, to reap profits over an extended period of time while keeping wages low and to continuously replenish the labour supply which had decreased dramatically after 1838 and especially in the late 1840s.

Immigration, thus, underlies all of Adamson's themes and arguably can be considered the dominant theme in the immediate post-emancipation history of Guyana.

Approximately 239,000 immigrants (Bharatiyaa) from India were transported in 245 ships which made 534 voyages across the Kaala Paani to British Guiana between 1838 and 1917 during the Period of Indentureship. Of this total, 234 were sailing ships which cumulatively made 492 voyages while 11 steamships made 42. A total of 103 ships of both classes made two or more voyages while 142 made just one voyage.

COOLIE SHIPS: CHARTERS AND SHIPPING CONTRACTS
In the early decades of Indian emigration, ships were chartered each season as required, either in London or in India. As the years passed, an increasingly large proportion, often all of it, was chartered in London. Up to the early 1870s, it remained the rule for shipping to be chartered separately for each shipping season, which commenced towards the end of one calendar year and ended towards the middle of the following calendar year.

Then in 1874, as a result of a very sharp increase in the rates of freight, the colonies of British Guiana and Trinidad and the Emigration Commissioners agreed to try to obtain lower rates by awarding a contract for a term of years to a single shipping firm.

Messrs. Sandbach Tinne and Company of Liverpool, a firm with commercial connections in British Guiana, were awarded a contract for three years from 1875-76 to 1877-78. This firm was succeeded by G.D.Tyser and Company, which held the British Guiana contract for the following five years from 1878-79 to 1882-83.

Until 1888 the shipping contract was the subject of intense competition between the following three firms: James Nourse of London, Sandbach Tinne and Company and G.D. Tyser and Company. In 1888, however, James Nourse secured a hold on the contract which was never afterwards broken.

In the 1890s all competition disappeared and Nourse had the field to himself to such an extent that the colony of British Guiana sometimes found it an advantage to negotiate a contract with him privately rather than to invite tenders. In fact, Sandbach Tinne and Company agreed not to compete against Nourse on the understanding that a number of their ships would be employed under contract by him.

The last sailing ship to arrive (Ems) and the last steamship to arrive (s.s Ganges) were owned by the firm of James Nourse and Company.

COOLIE SHIP STATISTICS
The Whitby and the Hesperus, which sailed from Calcutta to launch the Gladstone Experiment, both arrived on 5 May 1838 - the first to do so. Seven years were to pass before the next ship, the Lord Hungerford, also out of Calcutta, arrived on 4 May 1845. The first ship from Madras to arrive was the Nestor which did so on 26 December, 1845.

Between 1845 and 1848, the second period of Indian immigration to British Guiana, 44 voyages (23 from Madras and 21 from Calcutta) were made by 34 sailing ships, ten of which made two voyages each. The Martin Luther, the first ship to arrive twice and in consecutive sailing seasons, completed separate voyages from Calcutta and Madras in 1846.

After immigration resumed, a total of 209 ships cumulatively accounted for 488 voyages between 1851 and 1917. Of these voyages, 463 saw immigrants transported from Calcutta only, 18 were from Madras only, while 7 were completed after immigrants from both Calcutta and Madras were received aboard the same ship.

Overall, 200 ships transported immigrants from Calcutta alone with 118 of them making only one voyage. A total of 25 ships sailed from Madras alone with 24 of them making only one voyage. Fourteen ships made separate voyages from Calcutta and Madras while five ships completed separate voyages from Calcutta and the Calcutta-Madras combination. One ship, the s.s. Chenab, made separate voyages from Calcutta and Madras as well as one voyage transporting immigrants from both Calcutta and Madras.

COOLIE SHIPS: TYPE AND SIZE
In the early years the ships employed were wooden sailing vessels commonly built of teak. In 1861, however, when James Nourse entered this transportation field, his company began building iron sailing ships. Sandbach Tinne and Company, a rival shipping company, soon followed suit. By the 1880s wooden sailing ships had been replaced almost entirely by iron sailing ships.

Simultaneous with the gradual passing of the wooden sailing ships, the world was turning from sail to steam and the employment of steamships naturally came up for consideration. Although it was suggested in the 1860s that the use of the steamships to transport emigrants would be cheaper, that mortality rates would be significantly lower and that the duration of voyages would be significantly shorter than if sailing ships were used, only 5 steamships crossed the Kaala Paani to British Guiana before the 1908-1909 sailing season, making a total of 7 trips.

The size of the ships employed increased as the years passed, since ship owners found the building of larger ships generally more economical. In the mid 19th century sailing ships generally carried between 300 to 400 emigrants. For example, during the 1858-59 shipping season the following 8 vessels delivered 2720 emigrants: (1) Latona, 693 tons, 317; (2) Marchioness of Londonderry, 766 tons, 37 ; (3) York, 940 tons, 386; (4) Victor Emanuel, 955 tons, 358, (5) Plantagenet, 806 tons, 334; (6) Aurora, 536 tons, 234; (7) Ellenborough 1031 tons, 352; and (8) Simla, 1444 tons, 367.

By the early 1870s, however, vessels of over 1000 tons and transporting between 400 and 500 were the norm and this was illustrated by the fact that in the 1872-1873 shipping season only two ships of thirteen that sailed from India were below 1000 tons. These ships, the James Nourse-owned Ganges of 843 tons and the Gainsborough of 973 tons delivered 396 and 373 persons, respectively. The other ships landed between 403 (Trevelyan) and 561 persons (s.s. Enmore).

By the mid-1880s, heavier ships were transporting between 500 and 600 Indian emigrants. For example, during the 1883-84 shipping season the following five ships delivered 2731 emigrants: Bann, 1667 tons, 591; Foyle, 1598 tons , 564; British Peer, 1428 tons, 559; Ganges, 1443 tons, 490; and The Bruce, 1145 tons, 527.

By the early 1900s, ships were generally between 1400 and 1750 tons and routinely transported between 550 and 650 persons. With the increasing use of steamships after 1908, numbers transported per ship rose significantly to between 750 and 900 persons. For example, during the 1909-1910 shipping season the following three ships delivered 2508 emigrants: s.s. Sutlej, 2153 tons, 844; s.s. Ganges, 2151 tons, 847; and s.s. Indus, 2110 tons, 817.

As the years passed, therefore, fewer but larger ships were used to transport similar amounts of emigrants.

COOLIE SHIPS: IMMIGRANTS, SHIP ARRIVALS AND STEAMSHIPS
The first sailing ship to deliver more than 500 persons was the Blue Jacket which offloaded 522 persons from Madras on 1 February 1857. The first sailing ship from Calcutta to deliver more than 500 persons was the Apelles from which 503 persons disembarked on 4 February1866. The last sailing vessel to arrive was the Ems which offloaded 658 persons including two (2) casuals on 8 October, 1908.

The largest amount of emigrants to arrive on a sailing ship was 683 including two (2) casuals landed by the Mersey on 22 February 1895. The largest amount to arrive on a steamship was 907 including four (4) casuals delivered by s.s. Fazilka on 27 September 1901.

The s.s. Far East, which arrived on 21 October 1869, was the first steamship to transport immigrants to British Guiana even though she only used steampower as a secondary source of propulsion on this voyage.

The greatest number of ships to arrive in any sailing season was nineteen (19) in 1873-1874, beginning with the Buckinghamshire from Calcutta which delivered 526 persons on November 2, 1873 and ending with the India, also from Calcutta, which landed 382 emigrants on June 23, 1874. The corresponding number for a calendar year was 18 in 1869.The greatest amount of emigrants to arrive in a calendar year was 9,101 including one infant born after arrival in 1878.

The sailing ships that made the highest number of voyages from India to British Guiana were the Jura with ten crossings between 1877 and 1898; and the Foyle also with a total of ten crossings between 1883 (arriving on January 2, 1884) and 1899. The steamship that made the highest number of voyages was the s.s. Sutlej which made ten journeys between 1908 and 1916. the sailing ships Brenda and Sheila each made nine voyages.

The last shipment consisted of 437 persons, originating from both Madras and Calcutta, who arrived on April 18, 1917 aboard the s.s. Ganges

Indentured East Indians succeeded through resilience and perseverence
- Tota Mangar
Historically, the planters were very harsh and that was evident during slavery and it continued under indentureship to the extent that some scholars argue that indentureship was a 'new form of slavery' – Tota Mangar
By Priya Nauth
EAST Indians brought with them their rich culture and traditions and no doubt a spirit of perseverance and resilience that enabled them to survive the harshness of indentureship and today their descendants continue to make a significant contribution to development in Guyana.

On May 5, 1838, the first set of East Indian labourers arrived in then British Guiana on the ships Whitby and Hesperus that landed with 936 Indian indentured workers after a hazardous journey crossing the Kala Paani (dark) from Calcutta.

Deputy Vice Chancellor of the University of Guyana and historian, Mr. Tota Mangar, in an interview, said the movement of people from the subcontinent of India was part of a wider immigration of Indian labourers to other parts of the world, including Mauritius, Sri Lanka, Fiji and even parts of the African continent.

He said the English speaking Caribbean received substantial numbers of East Indian indentured labourers, and based on statistical evidence, Guyana received about 239,000; Trinidad and Tobago 143,000; Jamaica 36,000; Grenada over 3,000; St. Vincent about 2,500; and St. Lucia some 4,300.

Also, the non-English speaking areas received indentured labourers, including the French overseas departments like Martinique received over 25,000; Guadeloupe close to 46,000 and French Guiana 19,000; and neighbouring Suriname over 35,000.

"The movement was widespread. In terms of Guyana, the experiment started under what is known as the Gladstone experiment," he recalled.

John Gladstone was a proprietor in the West Demerara area at two plantations--Vreed-en-hoop and Vreed-en-Stein, Mangar stated.

"He was the one who sought permission both from the Indian government and the British government to recruit Indian labourers; and as a result, the first batch arrived in May, 1838, onboard the steamships Whitby and Hesperus and these immigrants found themselves on several plantations," Mangar said.

The indentured servants were placed on the two Gladstone estates, as well as on Plantation Highbury and Waterloo in Berbice; Belle Vue on West Bank Demerara and Anna Regina on the Essequibo Coast.

"That started the stream of immigrants coming to Guyana, and between 1838 and 1917, over 239,000 came. Of that figure, approximately 75,000 returned to the land of their birth, while the remainder stayed here and made Guyana their homeland," he said.

HARDSHIPS
Reflecting on the years of hardships and sacrifices endured by Indians, he said, "The indentured labourers experienced a lot of problems on the plantations. The environment was extremely harsh."

Stating that there was a big problem in terms of labour control, he explained, "The Europeans controlled the indentured servants and they were the ones who made out the contracts and it made it very harsh."

"On the plantations they were expected to do task work and invariably you find that the task work was excessive. It caused a problem and many times the labourers could not complete the task and they were penalised by way of fines or arbitrary reduction of their wages," Mangar further noted.

He went on, 'Historically, the planters were very harsh and that was evident during slavery and it continued under indentureship to the extent that some scholars argue that indentureship was a 'new form of slavery'."

"You had other forms of punishment. There were instances where the immigrants were flogged or whipped," the Deputy Vice Chancellor pointed out.

"They were detained; they were jailed and verbally abused and insulted. They were restricted to the confines of the plantation where they were assigned since the planters did not encourage them to move from one plantation to another; they felt that if they move they would compare wage rates and the temptation might be to move to plantations which offered a higher wage," he explained.

He said a lot of 'trumped up' charges were brought against the immigrants too, stating, "Many times they were not allowed to give evidence on their own behalf. At times too the judicial system was badly skewed against them because the interpreters tended to side with the magistrates and so there were very many instances where they never got justice. Many times they were jailed - it was not easy."

"It was a question of survival on the plantation and hard work; and because of their traditions, customs and the importance of a closely knit family, they struggled and sacrificed and ensured in the long run that they and their children got betterment," Mangar said.

"…but throughout the system - it was a long history of struggle against the harsh planters' class and their subjugation of these people," the noted historian reiterated.

"It was not easy - everything was a struggle for them…," Mangar repeated.

CONTRIBUTIONS
Noting their significant contributions, he said, "It is clear that the East Indian indenture labourers and their descendants toiled very hard to ensure that the sugar industry survived in the 19th as well as the 20th Centuries, and one can argue even in the 21st century, you find their descendants struggling to ensure the survival of the sugar industry because the vast majority of the workforce in the sugar industry today are descendants of indentured labourers."

In addition, Mangar noted that East Indians made their contribution in several other areas, including rice cultivation.

"By the end of the 19th century, you find some exclusive East Indian village settlements emerging, and aligned to that was the emergence of rice cultivation on a major scale," he stressed.

"So rice development was an integral part of East Indian village settlement," the Professor stated.

Also, they became involved in cattle rearing, milk selling, and cash crop cultivation; and close to the turn of the century, the immigrants and their descendants began to make their presence felt in other off-plantation economic activities. They became barbers, tailors, carpenters, boat builders, charcoal makers, sieve makers, goldsmiths, porters, small scale manufacturers and fishermen.

"What is also significant was the fact that the indentured laborers and their descendants took a serious view, especially from around the turn of the century, of education," he observed.

"Getting a western education was very important to them in terms of upward social mobility, so you find quite a few of them emerging as doctors, barristers, lawyers, accountants, et cetera, and with the passage of time, they emerged in business, in the lumber industry, in the mining industry, transportation industry and many others," he stated.

RICH CULTURAL HERITAGE
He also noted that East Indians contributed to Guyana's multicultural and plural society with their rich cultural heritage.

Approximately 83 per cent of the immigrants who came were Hindus, about 14 per cent were Muslims while the remaining 3 per cent were Christians, he said.

"What we find during the period of immigration was that from the late 19th century, mosques and temples began to dot the costal landscape and related to this were the introduction of Hindi and Arabic and other Indian dialects, along with their holy books, the Ramayana, the Bhagavat Gita, the Holy Quran. These are prized holy books in many households today," he said.

He observed that traditional Indian wear, such as the shalwar, sari, dhoti, kurta have become very popular over the years, especially at weddings and religious ceremonies, noting, "Some of these have taken on a nationalistic flavour."

Apart from its rich legacy in terms of music, singing, dancing and the various art forms which have taken root in Guyanese society, he also noted the various Indian traditional dishes like roti, puri, curry, bara, kheer and a number of other vegetable dishes, now adopted by every ethnic group in the society.

Indian festivals are widely celebrated, including the colourful Phagwah, Deepavlai - the Festival of Lights, Ramnavmi, Shivraatri, Youman Nabi, Eid-ul-Fitr.

"A few of these are today national holidays, a testimony to their significance," Mangar pointed out.

"By and large, I can say that the East Indian immigrants and their descendants were able to survive largely through their resilience, their determination and their commitment to family," he emphasised.

He went on, "They continue to make invaluable contributions to the overall progress and development of Guyana and can be found in every sector of society," he asserted.

Descendants of indentured laborers continue to make immense strides in the social, economic, cultural, education, political and trade union fields, and indeed they are actively engaged in every facet of life in the Guyanese society today and one cannot forget the sporting arena.

"So they have left a strong legacy and this is important for mutual understanding, tolerance and for national unity, because we have to understand and tolerate each other as we strive to improve the quality of life in Guyana and to ensure progress and development," he said.

He also pointed out that other groups such as the Portuguese arrived in Guyana, hence the month of May is very significant.

"We should not lose sight of the fact that other race groups also came here at other stages of our history; for example later Chinese came, and we also had a significant amount of internal migration in the Caribbean where a lot of Barbadians came to Guyana to work on the sugar plantations too, because at the end of emancipation Barbados had surplus labour," he stated.
Tuesday, May 05, 2009