Attacks by the killer African bees are on the rise along the Guyana coast and residents are appealing to the authorities to go after the swarms before the situation worsens.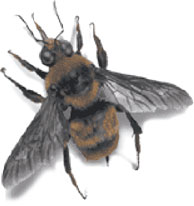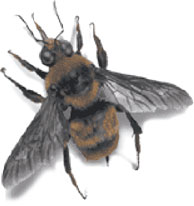 African bees
An East Bank Demerara farmer died earlier this month after the bees attacked eight persons in the village back lands, and two residents of Bath Settlement, West Coast Berbice, were hospitalised Monday after the latest attacks.

Ramdai Matadin, 62, was among five family members attacked by the bees in their yard at Centre Street, Bath, around 15:00h Monday.

The others were treated and sent home but she was kept in the Fort Wellington Hospital, West Coast Berbice, for observation. Her condition was reported stable yesterday.

Shiroon Phillips, of Waterloo Street, Bath, two of her children, an adult neighbour and three others were fishing in a trench aback the village around the same time Monday when another set of bees attacked.

The woman said she nearly drowned in the trench because she attempted to stay under the surface but ended up swallowing water.

She eventually jumped out of the trench and ran along a dam and the bees followed her, entangling themselves in her hair and stinging her on the face, neck and shoulders as she tried to escape from them.

She said she eventually fell to the ground and the bees continued stinging her before flying off.

The others with her were treated and sent away but she was kept in the Fort Wellington Hospital pending observation and was expected to be discharged yesterday.

Matadin said bees also stung and killed a dog in the village last week.

She said that as far as she knew, up to yesterday morning the bees were still in the neighbourhood.

She hoped that action would be taken to remove the vicious insects which had apparently set up a colony or colonies in various parts of the village.

The bees stung and killed two dogs In Liliendaal, East Coast Demerara last week and there have been reports of other dangerous attacks on people and animals as far west as the Essequibo Coast.

In the Friendship, East Bank Demerara attack, Abdool Hamied also known as 'Dool', 49, of Lot 6 Public Road, Friendship, died earlier this month as he was being taken to the Georgetown Public Hospital Corporation.

Hamied, his son, Tariq and six workers were attacked by the bees in Hamied's farm.

Tariq told this newspaper they were working when the swarm attacked and while he and the others ran away, his father was not able to keep up because of his age.