Bandits strike on Corentyne

TWO men were attacked by three bandits armed with a gun and cutlasses who robbed them of cash before escaping in their vehicle on Tuesday at Corentyne, Berbice.


Police said that at about 22:30 h Tuesday, Raphael Matthews and Afzal Khan were at the home of Rasheed Motin, of Line Path, Corentyne, and were returning to a motor pickup GGG 4658 when the bandits robbed them of $5,000 in cash and a quantity of jewellery.



Motin was then called out of his home by the robbers who took him inside the building, ransacked the house and took away $80,000 in cash.

UNSOLVED Crime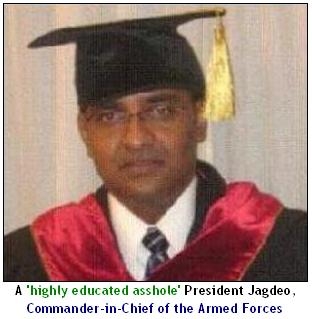 The bandits then demanded the keys for the vehicle which they used to escape.

The vehicle had not been recovered up to press time and the suspects are still at large.

Meanwhile, in an unrelated incident the police reported that they found the decomposed body of a man in Berbice.

Police said he was identified as Bahadur Jahore, 47, a labourer. His body was found about 15:00 h Tuesday at Potoco Creek, Canje.

Police said the man was last seen alive about 12:00 h Tuesday.


Friday, December 16, 2005