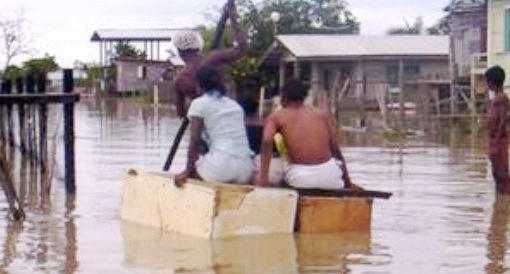 Indentureship – Visions of the Past
The East Indians
The largest group of indentured immigrants who came to Guyana were the East Indians, starting under Vreed-en-hoop plantation owner John Gladstone.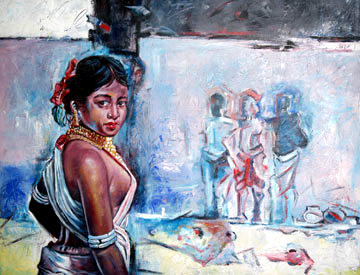 Philbert Gajadhar, University of Guyana Arts lecturer, says this painting of an Indian peasant girl, adorned in traditional dress, addresses the custom of Indian Hindus and Muslims wherein girls were not allowed to venture out alone, but accompanied only by a male of the household. She looks to the future, her peers are in the background. It forms part of the Indentureship exhibition at the National Museum.
They came from different districts in the north and south of India. In the north, they came from Uttar Pradesh, Bengal, Bihar and to a limited extent Punjab. From the south, most originated from the Tamil and Telinga districts of the Madrass presidency.
They were shipped from the port of Calcutta, and the first batch arrived here on May 5, 1838 aboard the ship, Whitby.

Between 1838- 1858,a large number were "Hill Collies" (Dhangars, Mundas, Kols, Orgons) from Nagpur, a sub-division of the Bengal presidency.
Up until 1917, about 240, 000 Indians were brought to British Guiana and allocated to plantations around the country.
An Indian girl who came to Guyana under indentureship.



Much of the traditions they brought are fading, but the exhibition gives glimpses of what used to be practiced.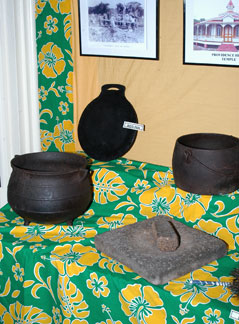 Cooking is one of the most important daily ritual of an Indian wife. Familiar implements, including the brick used for grinding massala, are displayed.



For example, displays of the "lorha" and "sil", stones used to grind massala, showcases what were primary objects in the Indian woman's kitchen. Though she too toiled on the plantations, cooking was one of the most important daily routines of an Indian wife. Many will tell you that coconut choka made from grinding roasted coconut with seasoning and pepper far out-tastes those made from today's modern methods.

Guyanese_jahajis Results-National-Grade-Six Ramphal-home-Barbados Once-More-R emoved


You will see too a checkered Rumal (headscarf), worn by Madrassi Indian women. The Rumal, (the plain white more recognizable) though still worn by some women, is quickly becoming a thing of the past.

Sunday, May 06, 2007