Benschop, Witter, Lewis
Arrested
- Held for disorderly behaviour, resisting arrest
By Michel Outridge

Freed treason accused Mark Benschop, Norris Witter of the Guyana Public Service Union (GPSU), and General Secretary of the Guyana Trades Union Congress (GTUC) Lincoln Lewis, were yesterday arrested for disorderly behaviour and resisting arrest during an illegal protest outside the office of the Commissioner of Police, Eve Leary.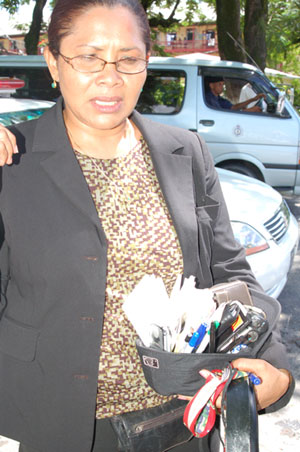 The menís personal articles handed over by the police to a media representative.
The trio was yesterday hauled off to the Brickdam Police Station where they were processed and placed in the lock-ups.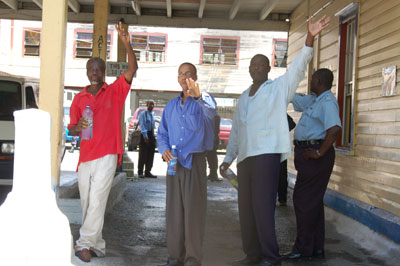 The trio waving to the media heading to the Brickdam Lock-ups yesterday.

Their lawyer, Khemraj Ramjattan showed up after their detention, pleaded on their behalf and said that bail was expected at 3pm yesterday.
However, up to press time, the men were still in police custody.
The three men were holding a three-man protest outside Henry Greeneís office during the Police Awards ceremony.

There, one of the three men ended up in a trench and was eventually pulled out and taken away to the police station.
Thursday, July 16, 2009