Armed bandits raid Benschop's home
- $0.5M in cash, equipment, jewellery stolen
Thursday, August 15, 2002



Two masked and heavily armed bandits yesterday invaded the home of controversial TV personality Mark Benschop at Lot 90, Laluni Street, Queenstown and escaped with $0.5M worth of cash, equipment and jewels.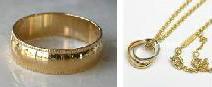 The heavily grilled premises was reportedly entered through a grill door that was forced.

Benschop's wife Maria lamented that ranks of the Guyana Police Force had on a previous occasion used a similar method to gain entry to their home when they had gone there in search of her husband.
Mr Benschop has stirred up a lot of trouble Benschop_jumps_queue


Among the items found missing after the men departed were two video recorders, two video cameras, a cellular phone, a long-range cordless telephone, a computer and several diskettes.

However, several other items of value including a music system, television and another cellular telephone were left behind, prompting the woman to say that something "fishy" had occurred.

Relating the events to Stabroek News yesterday, Mrs Benschop recalled being awakened by noises, which she described as a shuffling and sounds of footsteps.

Shortly afterwards she saw an armed man brandishing a long gun entering her bedroom and he began demanding cash and jewellery. According to the woman, the two men continually demanded to know "weh the gold and the money deh", prior to her handing over the valuables.

She said she pleaded with them not to harm her or her two-year-old son who was asleep while handing over the articles. The robbers then tied her up and placed her in a rear bedroom before continuing their search of the home.

The men, according to Mrs Benschop, also threatened to shoot the couple's infant son if he awoke and began crying, but the child slept through the entire ordeal.

After the bandit's departure, police were summoned to the scene and have since commenced investigations.

The visibly shaken woman expressed fears for her life since she and her son are the only residents on the premises. Her husband is at present on remand at the Camp Street penal facility awaiting the commencement of a preliminary inquiry into a charge of treason. (Oscar P. Clarke)