Home Affairs Minister, Ms Gail Teixeira, reacting to the latest gun robbery there, went to Berbice yesterday and talked frankly to the victims, the Police, Community Policing Groups (CPGs), Neighbourhood Democratic Council (NDCs) and other people.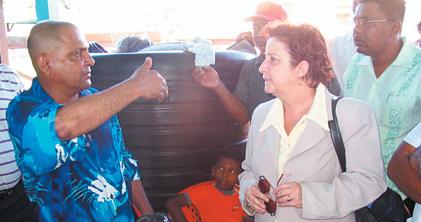 ROBBERY VICTIM: Gopie Singh meets Home Affairs Minister Gail Teixeira yesterday.
Emphasising the necessity to reduce crime, not only ins the 'Ancient County', she admonished members of the Guyana Police Force to "pull up their boot straps" and challenged people living in the vicinity where the Tuesday heist took place to help apprehend criminals.

Her visit followed a brutish attack on the occupants of a house at Betsy Ground, East Canje, in which were seven Canada-based members of the family, all of whom were robbed of cash and jewellery with a total value of millions of Guyana dollars, travel and other documents.



Minister Teixeira said it was difficult for her to understand how criminal agents from Georgetown can travel to Canje and rob the Betsy Ground clan if there is not a network of criminal activity.

UNSOLVED Crime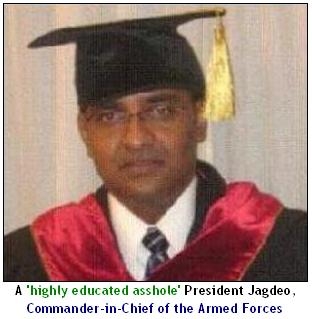 She said the community needs to look for criminal elements within and said people there must develop a sense of security consciousness.

In order to improve policing, the minister suggested to Police Divisional Commander, Assistant Commissioner Clinton Conway that some of the 400-odd rural constables (RCs) be added to the regular staff to work mainly on day shifts while seasoned cops man the night shifts.

"Let Betsy Ground be a priority. Criminals seem to know the patrol days...you need to review your patrol days...maybe changing it every two weeks," Teixeira offered, adding: "There must be collaboration with the Community Policing Groups and the Commander to be effective."

At meetings with Conway and members of Canje Community Policing Group, Teixeira expressed concern over the increase in criminal activity in the community which is known for its drug trafficking.
She told a gathering at the Goed Banana Land, East Canje office of Canefield/Enterprise NDC, that the "non-responsiveness" of the Police needs to be addressed urgently.
"Managerial issues and manpower must be improved," Teixeira insisted, saying that Reliance Police Station, which oversees the whole of East Canje, has to be upgraded.

She said Administrator of CPGs, Assistant Commissioner Marvin Glasgow will be there shortly to assist in strengthening the capability of the Berbice groups.

Talking to the victims at their Betsy Ground house, where robbers brutalised some before robbing them of Cdn$40,000, diamonds valued Cdn$3,500, G$600,000, seven Canadian passports, United States green cards and other documents, Teixeira assured that disciplinary action will follow an investigation under way to ascertain the reason for slow Police response to the crime.

She said Deputy Commissioner Mohamed Jameer, in charge of the Office of Professional Responsibility at Police Headquarters, Eve Leary, Georgetown, is also to find out why cops allegedly retreated from the vicinity of the attack.

Teixeira, while confirming that four suspects have since been arrested, posited that persons within the attacked household or in the community must have leaked information to the bandits, because the building does not appear to belong to a rich person, just one who is living comfortably.

One of the Canadian citizens, Gopie Singh declared that the Guyana Police Force is a disgrace to this country but Teixeira, although acknowledging there is need for improvement, pointed out only 130 persons apply to become cops every year.
However, those who suffered in the robbery and their neighbours, apparently dissatisfied with Teixeira's words of comfort, persisted in making a series of derogatory remarks about the Police and the minister rebuked them, saying they should address the gun runners in their community.
"...that is where your anger must show... you should not protect them, expose them so the Police could deal with them...those that traffic the guns which are being brought from Suriname for the bandits. You know them but you are not saying anything," the minister retorted.

Reports said members of the Singh clan had seen three suspicious looking men walking past their home about 23:30 h on Monday and telephoned Reliance Police Station, also in Canje.

But the phone calls, also to stations at Albion, Corentyne and Central Police Station, New Amsterdam, remained unanswered after several attempts to solicit urgent assistance.

Then, around 02:30 h Tuesday, the previously suspected trio broke into and, accompanied by others, entered the two-flat residence and terrorised occupants of the lower flat before proceeding upstairs where there were 22 more persons, among them Parbatie Singh, her four children and her parents, Gopie and Eunice Singh, all of whom live in Canada but returned here on May 10 to renovate the premises.

Parbatie Singh said she was lashed about her body with a gun butt prior to being forced to hand over Cdn$15,000 cash and seven diamond rings worth Cdn$3,500 which she acquired through hard work.

The woman said the stolen jewels include gold bracelets and trinkets which were being worn by her children.

Her father, Gopie Singh was relieved of Cdn$10,000 and her mother, Eunice Singh said the robbers took Cdn$15,000 and G$600,000 from her.

The Singhs said some of the masked gang targeted the visiting adults while their accomplices kept watch over the yard and on lower flat.

Suitcases containing the belongings of the recently arrived Singhs were also carted off in the heist.

Police ranks from Reliance eventually arrived at the scene after the gunmen's departure at dawn, leaving particularly the children visitors traumatised, their parents said.

Thursday, May 18, 2006