After four years…
Family of kidnapped taxi driver still hoping
HIS wife, Shakela Dalchand and their three children, grieving for their loved one since the disappearnce of taxi driver Khemraj Dalchand, still hope that the kidnap victim will return home alive after four years.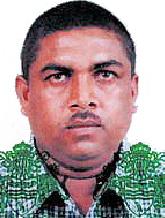 Kidnapped Khemraj Dalchand, whose corpse was never found.
Bibi Nazim, a cousin of the disappeared man, told the Guyana Chronicle, on Wednesday, that it is very difficult for them, not knowing if he is dead.

Dalchand, then 42, of Virginia, East Coast Demerara, was kidnapped on April 24, 2003, in the vicinity of where he lived while transporting a passenger.

But two days after his abduction, he made a brief telephone call to his wife, pleading with her to raise the sum of money and jewellery demanded as ransom while his motor car was discovered abandoned at Mocha/Arcadia, East Bank Demerara.



Ransom - Jewellery and the amount of $2.5M was dropped at a stipulated place

The cash and jewels were to be delivered at Victoria, also on East Coast Demerara, according to the kidnappers who contacted his family with the $5M demand for his safe delivery.

However, following negotiations, the amount of $2.5M was dropped at a stipulated place.

Nazim reminded Wednesday that the family has had more grief because her brother, Lethem businessman Mohammed Khan was abducted on June 22, 2003 and killed but his corpse was found.

She said Khan's son committed suicide, by shooting himself on March 10, 2004, at Lethem after being depressed over his father's demise.

Nazim said they wish for a closure with Dalchand, even if only to give his body a proper burial.
Thursday, April 19, 2007