After Eve Leary protest…
Benschop, Witter face three charges, Lewis absent
By Telesha Persaud

PARDONED treason accused Mark Benschop and trade unionist Norris Witter appeared before Acting Chief Magistrate Melissa Robertson yesterday, facing charges of unlawful assembly, disorderly behaviour and resisting arrest.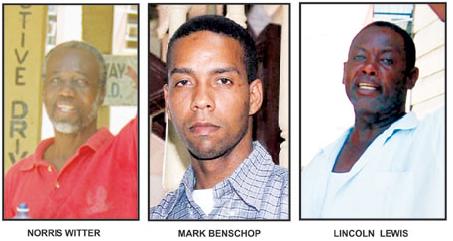 Benschop, 37, of Lot 183 Roxanne Burnham Gardens and Witter, 57, of Lot 35 Cauliflower Street, South Ruimveldt, were jointly charged with Secretary General of the Caribbean Congress of Labour (CCL) Lincoln Lewis with assembling unlawfully.

Lewis was, however, not in Court and Magistrate Robertson informed the two present accused that the charge would remain indictable until their co-accused, who would have to be summoned, makes an appearance.

It is alleged that Benschop, Witter and Lewis, together with other persons unknown, unlawfully assembled on Young Street, Eve Leary, also in Georgetown, on July 15.

Benschop and Witter, who were separately charged with disorderly behaviour and resisting arrest, pleaded not guilty.

The allegations against them said, on July 15, they resisted Police Chief Inspector Patrick Todd, a peace officer, acting in the execution of his duties and, that same day, in a public way, they behaved disorderly.

Attorney-at-law Mr. Khemraj Ramjattan, who appeared for the trio, explained that Lewis, being a senior officer of CCL, had to leave the country and is presently in Barbados.

The lawyer said Lewis had been told to report at a Police station on Thursday and Friday and he would be communicated with after then.

Ramjattan said the Police are well aware that Lewis left Guyana on Saturday to get back to his base but gave the undertaking that the latter will be appearing in Court on the next occasion.

Defence Counsel said Benschop is a journalist and a people's activist and Witter is Acting General Secretary of Guyana Trades Union Congress (GTUC).

Ramjattan said Benschop, Witter and Lewis were peacefully and lawfully protesting on the Young Street parapets and reminded the Police officers that they could picket anywhere in Guyana.

Defence Counsel said those remarks indicated to the officers that they were not doing their jobs properly.

However, Ramjattan claimed the Home Affairs Minister had found himself in the exact predicament some 20 years ago.

Police Inspector Denise Griffith, prosecuting, said, while she was not objecting to bail for Benschop and Witter, the issues raised by Ramjattan would be dealt with at their trial in another forum.

The Prosecutor also mentioned that no explanation was given to her about why the virtual complainant was not in Court.

Benschop and Witter were released on their own recognisances until September 1.

The three men were arrested outside Police Commissioner Henry Greene's Eve Leary office.
Tuesday, July 21, 2009