Fire leaves millions in losses at Bourda Green
By Shirley Thomas

FIRE swept through eight grocery stalls on the Bourda Green shopping area, in Orange Walk, early yesterday morning, leaving millions of dollars in losses.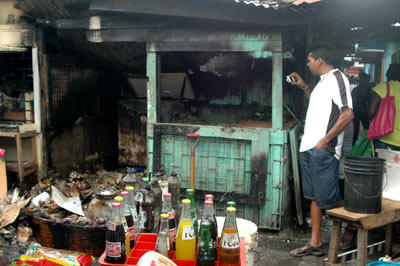 All that's left of Chanroutie Seepersaud's business.

The disaster left three of the victims devastated, after their businesses were destroyed by the blaze, suspected to be of electrical origin.

| | |
| --- | --- |
| "I asked Father to give me strength"…… Chanroutie Seepersaud, 74. | |
Those who suffered were Bissoondai Rajnaraine, who operates two double stalls; her mother, Chanroutie Seepersaud, who had two and William King, who had three.
Reports said the flames were first seen shortly after 03:00 h when electricity was restored, following a Guyana Power and Light (GPL) power outage.

Soon after the restoration, an electricity surge was experienced and sparks were seen on an Orange Walk line.

Within seconds, the wires connected to stalls quickly caught afire, eyewitnesses said.

The next thing they knew is that the shops began to burn, they said.

| | |
| --- | --- |
| Mr. William King, standing dazed and at a loss for words outside his razed business at Bourda Market. | |
One man said the Guyana Fire Service (GFS) was summoned but, meantime, others who were around used water from wherever they got it to try dousing the flames but they were no match for the conflagration.
Once at the scene, firefighters broke open the tightly secured structures and did an incredible job at containing the inferno and averting a bigger catastrophe in the complex.

The distraught owners of the shops said they had put all their energies and hard earned life savings into developing their enterprises and were at a loss to decide their next move.

More importantly, they said their immediate concern is how to find money to pay for stocks taken on credit because they had no insurance.

| | |
| --- | --- |
| The items at Bissoondai Rajnaraine's shop – razed by fire and doused with water from the Bourda market trench. | |
Rajnaraine, a mother of four, from Melanie Damishana, East Coast Demerara, said she received a telephone call around 05:00 h, informing her about the fire.
She got to her stalls at 06:00 h and was confronted with the destruction.

ELECTRICAL

"Clearly, it was an electrical fire," the woman concluded, adding that up to 10:45 h yesterday, GPL employees had not disconnected the current and at least one man suffered electric shock while assisting to clear the debris.

Rajnaraine said she started vending at Bourda at a very young age, selling greens on a crate at John Forde Car Park, East Street.

"We took sun, rain and dew and endured all kinds of conditions," she related.

She recalled that, about 15 years ago, she bought the space at Bourda Green and her task was made a little more comfortable but still entailed very hard work.

Her mother, Seepersaud, now widowed at 74, has been selling there for at least 40 years.

| | |
| --- | --- |
| A distraught Bissoondai (seated at right) along with her daughters at the scene of the fire. | |
| | |
Sitting on chair and looking helplessly at her merchandise burnt and bundled together in lumps, she lamented that all her groceries, freezer and the building that cost so much money are gone.
She had started as a greens vendor but switched to groceries as she got older.

"It was hard fetching boulangers in bags and baskets, so I turned to groceries," the silver-haired septuagenarian said.

She said her children do not want her to work but she would not hear of giving up working to be maintained by them.

Seepersaud, who lives in Campbellville, another city ward, said her daughter telephoned her about 06:30 h yesterday, telling her something was wrong at the market and she was coming to get her.

"When I reached and saw this, I asked the Father above to give me faith," Seepersaud said, noting, in tears, that she could have collapsed over the more than one million dollars loss.

Only about five cases of aerated drinks were saved for her.

King, a widower, said he had been conducting his business for the past seven years since the death of his wife and it had become very much a part of him.

It provided him with an income and felt a commitment to continue serving the people who have supported him through those years.

He said he did not go back to his stalls after locking up on Friday afternoon, being a Seventh-Day Adventist and, on Sunday, he injured one leg and stayed away, as well.

King said he experienced some strange premonitions on Sunday and he kept asking God to reveal what was about to happen and give him the strength to bear what was in store but, not for one moment, did he expect what greeted him yesterday.

He and the others affected will have to remain out of business for some time as, apart from having to clean up and find money to rebuild and restock their shops, they also have to await permission from the Mayor and City Council (M&CC) to make any fresh start.
Tuesday, July 21, 2009