Fuel dealer found dead in car trunk
- wife detained .." .(as usual) Responses Son arrested Phone call - Robin Mangar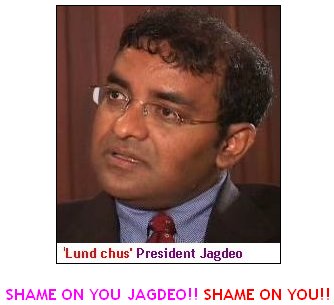 . They got to do something about the crime in this country. We canít be coming back here every year to bury one of our family.
Nazir-Alli-dead Fazeela-Alli-Gunmen Ganga-dead-KN Soldiers-freed-murder-charge Budhram-shot-dead Mangra-gunned-down Cop-3-pirates-killed Rose_Hall_rampage Muneshwar-Paragass-dead British-beaten-robbed Kidnapped-businessman-dead Bandits-Bush-Lot

The murder of a Good Hope businessman sent shockwaves through a section of the East Coast Demerara, just when it appeared that life in the volatile district was taking on some semblance of normalcy.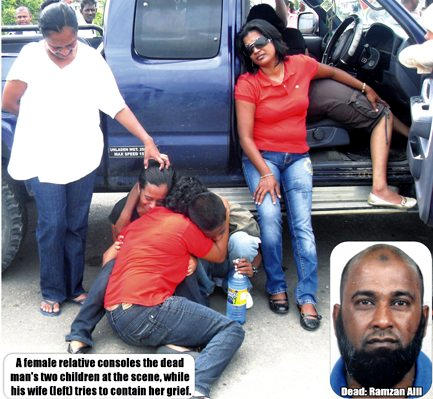 The body of Ramzan Alli, 43, was found in the trunk of a rented white Toyota Carina AT 212 on the Railway Embankment in the vicinity of Coldingen, hours after he had left his home following a telephone call on Saturday night.


He was discovered around 08:00 hours by relatives who had launched a search for him after he did not answer several calls to his cellular phone.
Investigators could not say if Alli was shot, but they informed that his skull was smashed in.
Kaieteur News, dated Friday, July 25, 2008 Rahamat Khan

He was found with a paper bag sealed with duct tape over his head.
Allyís death came at a time when family members were preparing to hold a religious function in memory of his brother Akbar Alli, a scrap metal dealer from Enmore who was gunned down on Brickdam on July 24 last year.
Alfie Alli, a relative who is visiting Guyana on holiday, said that Alli left his home at around 20:30 hours on Saturday.
He did not say where he was going.

At around 05:00 hours yesterday, family members missed him, since they claimed that he would not stay away from his home overnight without informing them.
ďWe have a religious function for his brother who was killed last year, the scrap iron dealer. We realised he was missing because he was supposed to go and pick up the meat to do the function today (Sunday). We started calling his cell phone from five oíclock this morning and until after seven he wasnít answering, so everybody got into different cars and start calling whoever they know and started driving around looking for him,Ē Alfie Alli told this newspaper.
Chandradai-battered-robbery Dhanwantie-chopped Appana-businessman

One of the dead manís cousins, who assisted in the search, then observed Alliís locked car on the Railway Embankment.
On checking, he initially did not see anyone inside.
He made further checks and observed that blood was dripping from the trunk to the road.

The relative then broke the driverís side window and unlocked the trunk where he made the shocking discovery of Alliís body.
ďHis head was bagged and taped,Ē the dead manís relative said.
The police were contacted and they quickly secured the scene and commenced their investigations.

Detectives believe that Alli was killed somewhere else and his killers brought him in his car and left him in the desolate area.

There was what appeared to be a skid mark on the parapet near where Alliís body was discovered, leading investigators to believe that the killers then fled the scene in another car.

The dead manís two young children who subsequently arrived on the scene were inconsolable and had to be restrained by relatives, while his wife stood motionless.

Several persons recalled seeing the parked car at around 01:00 hours yesterday, but they did not have the slightest clue that it contained a body in the trunk.
Alfie Alli ruled out robbery as the motive for his cousinís death, explaining that the fuel dealer had left his home without any cash.

ďIt could not have been a robbery because he had no money. He doesnít wear jelwellery, heís very religious. Up to last night I spoke to him and he didnít even have a thousand dollars in his pocket,Ē Alfie Alli said.

The visiting Guyanese said that Alliís death is a double blow for the family, since they have not yet finished mourning for Alliís brother who was murdered last year.
ďI think this country is ridiculous with this kind of thing. They got to do something about the crime in this country. We canít be coming back here every year to bury one of our family. We came back here on vacation. I got three American kids in this country and they just met him as an uncle for the first time. How do I explain this to my kids?Ē Alfie Alli said.

Police have so far been unable to develop a clear motive for Alliís murder, but disclosed that he was a supplier of fuel to the interior.

Police are also checking reports that a friend of the dead man was recently robbed of several million dollars in neighbouring Suriname to see if there is any connection.

Investigators have questioned several close relatives and have detained one of the dead manís cousins who made the discovery yesterday morning.
They had also detained the dead manís wife and up to late last night she was still in custody.

This newspaper understands that Alli and his wife were before the court following allegations that she had threatened to kill him.

Monday, July 13, 2009