Good Hope fire…
Years of hard work, sacrifice go up in flames

THIRTY-four-year-old Good Hope resident, Omadai Galdino and her mother, known only as Rosy, are today the toast of their East Coast Demerara village for having the courage to brave the intense heat to save their offspring from certain death when fire razed their two-storey home late Friday night.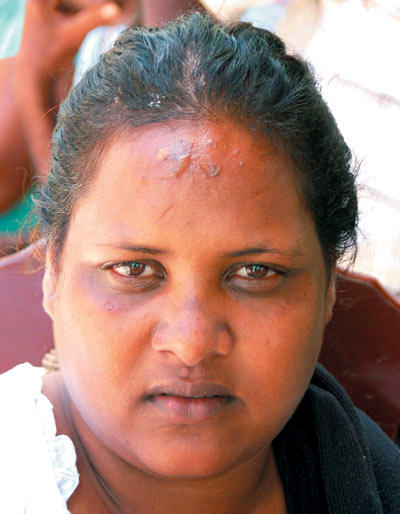 OMADAI GALDINO

Galdino, her mother, sister, niece and her three children -- Paloma, 10; Paul, 8; and three-year-old Petal -- survived the blaze, said to have started around 22:00hrs and caused widespread panic in the Kissoon Housing Scheme neighbourhood.

Both she and her mother sustained severe burns to their faces as a result of the fire which left behind some $25M in losses. According to Galdino, it was the screams of her neighbours and the intense heat which propelled her as she rushed to save her children from the inferno.

Surrounded by relatives, neighbours and friends, an obviously distraught Galdino told the Chronicle that she'd worked many years to achieve what she had, only to loose it all. "All those sacrifices and hard work and nothing was saved, everything lost," she said.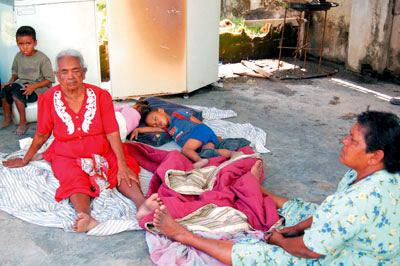 WHAT'S NEXT? Galdino's mother, Rosy, seated right, seemingly contemplates her next move as some of the young ones take a well-earned nap. Keeping her company is her grandson, Paul and a relative, seated first and second left respectively.
(Photos by Adrian Narine)

As if to add to the burden eating away at her insides, Galdino said her husband, who is currently in the 'interior', knows nothing of the fire and attempts to contact him have so far proved futile.

She however said she is extremely grateful to her neighbours who formed a bucket brigade to help her salvage at least the physical structure of the building.

One neighbour, Ms. Savi Gafoor, who witnessed the fiasco from beginning to end, had the courage to voice what was on everyone else's mind, this being that the slow response of the Fire Service was to blame for the fire getting out of hand, and that shoddy work by Guyana Power and Light (GPL) staffers is what caused it in the first place.

This was corroborated by Galdino, who said GPL workers went to her home yesterday morning and just carted off their connections without saying a word to her as to whether there will be an investigation into the incident or not.

According to her aunt, Ms Sandra Nimdat, "when the fire service finally arrived, they come without water and end up having to use the drains and the neighbours' tanks."

She said that had they come prepared, "we could have saved something at least."

As she contemplates her next move, Galdino said that for now, her two eldest children were staying with a friend here in the city while she and her youngest will be staying with relatives.

"We work hard, but we never expect a fire… and now it's all gone. The only good thing is that we have everyone alive," she said. (Vanessa Narine)
ay, March 08, 2009