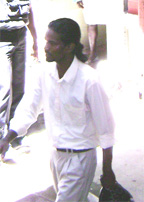 Teacher Gopaul Ramathulla
A 32-year-old teacher who allegedly indecently assaulted a female teenage student was remanded to prison when he appeared at the Georgetown Magistrate's Court yesterday.
Gopaul Ramathulla of 165 Middle Road, La Penitence pleaded not guilty to charges of indecent assault and use of threatening language when they were read to him by Principal Magistrate Melissa Robertson-Ogle.

Teacher Ramathulla
indecently assaulted a 13-year-old female.
It is alleged that on June 3 at Charlestown Ramathulla indecently assaulted a 13-year-old female.
According to attorney-at-law Nigel Hughes who represented the accused, his client "enjoys an unblemished character and reputation" and the allegations are motivated by a personal matter.
The prosecution reported that the virtual complainant (VC) is a student at the school where the accused teaches. They requested the court to refuse bail because, according to them, there is a possibility that the accused may interfere with the VC.
Bail was refused and the matter continues on June 20.