Enterprise family flees home after kidnap threat
Monday, November 03, 2003

An Enterprise, East Coast Demerara couple was forced to abandon their recently acquired $4M home after two armed bandits on Friday evening looted their place and threatened to kidnap two of their children.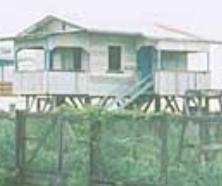 Abandon their recently acquired $4M home

The robbery victims have since taken up residence at another location and are still in a state of shock and fear after witnessing the bandits ransacking their three-bedroom home and carrying away over $100,000 in cash, jewellery and other valuables.




"You could never tell. We can't tek chance and stay in dat place they might very well come back and haunt we life. We ain't able with dat worries," a family member told Stabroek News yesterday.

According to Indira Rekheran, she her husband and their three sons had just returned home around 7:45 pm when the bandits, who had been lying in wait for them, entered their home.

The woman said the men first accosted her husband who was sitting in a chair.
Speaking to this newspaper yesterday Rekheran said she was almost certain that the bandits had been hiding somewhere in her yard.
The woman's brother and his family live in the same yard but they did not see the bandits.

Once in the house, Rekheran said one of the bandits guarded her husband while the other commanded the rest of her household to lie face down.

"After dis he come to me and seh no noise! Hand me all de money and gold"
Rekheran said she began to tremble with fear but the man proceeded to order her into her bedroom where he ransacked their wardrobe.

"When he checking the wardrobe I looking at him and he then tell me if yall ain't give me all yall gat we gon carry the two boys dem to Buxton."
On hearing this the children's father who was still under guard by the other bandit begged the man not to take his children.

The bandits then grabbed two cellular phones which were in the bedroom, a bag with jewellery and some $55,000 in cash.



Not satisfied with their plunder the men proceeded to pick up a pair of sneakers and emptied a bag full of personal documents including bank books, national identifications cards and other things.

At this point the men prepared to leave the home but not before warning the family not to sound any alarm or call the police.

Rekheran said her brother was aware of the robbery but he was so afraid that he locked up his house and stayed quiet.

The police were called in but by the time they had arrived the men had already escaped along the railway embankment.

The woman said yesterday her husband had worked very hard to acquire what they have. She related that the house at Enterprise was built through a mortgage they had taken from a bank.

Asked whether she would return to the house, the woman told this newspaper that several family members and residents had encouraged them to stay.

"But we ain't safe deh at all. No use stick around when you gat to wake up every minute ah de night and peeping to see if anyone deh in you yard."
Yesterday when Stabroek News visited the family at their new location they were now settling in.

Tensions have risen recently in the area following the kidnapping of taxi driver Vivekanand Nandalall. Despite a ransom being paid for him, the man has not been seen since.
(Nigel Williams)