Even before a US Grand Jury indicted him for allegedly conspiring to import cocaine into the USA, businessman, Shaheed 'Roger' Khan had always been perceived by many locally to be involved in illegal activities.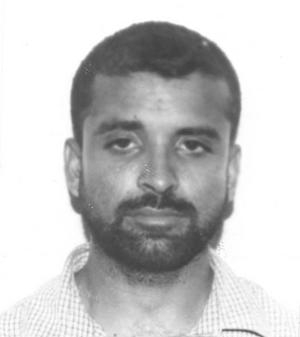 Shaheed 'Roger' Khan, Civil engineer by profession
But his lawyer, Glenn Hanoman said that contrary to popular belief his client had to work hard for his fortune. "He (Khan) has worked hard and even borrowed money to get what he has today," Hanoman said in defence of the businessman who is alleged to have ties to the underworld. Hanoman said Khan, 35, is a father of four and a civil engineer by profession. For many years Khan lived in the USA but fled to Guyana in the late 90's, when he was charged in the US in a gun-related matter. Once Khan returned to Guyana, Hanoman said he took his profession seriously. Sometime in the 90s he and three others, Hanoman said, bid for a contract to renovate the University of Guyana. He was successful and from that project Khan began to make money. His lawyer said Khan's next move would be to purchase a canter truck, which aided his business. Soon, Khan would enter into a contract with a popular businessman to develop a housing scheme at Good Hope, East Coast Demerara. Khan and his team constructed over 100 houses. In that particular contract, Hanoman said Khan had invested some of his own money in building the houses and an arrangement was agreed upon that a percentage from the sale of the houses would be his.
Khan acquired some profit in this business deal and he continued to move on, Hanoman said. It is not clear when and what influenced Khan's self-confessed anticrime role but he gained notoriety when he and two others were found near a cache of highpowered weapons and electronic equipment capable of intercepting telephone calls. Since that time his name has been frequently called with drug trafficking and recently he went public to say that he is capable of preventing a coup against the government. He also said that he played a major role during the crime wave in 2002 and provided intelligence to the US when a diplomat at the US Embassy in Georgetown was kidnapped and taken into Buxton.
Soon after the housing project at Good Hope, Khan purchased a large piece of land at Blankenburg, West Coast Demerara which he developed into what is today called The Hibiscus Scheme. A number of houses were also built in this project. Khan is also responsible for construction of most of the houses in Hutsonville on the East Bank of Demerara (EBD) and now he is working on another housing project at Farm, also on the EBD. Although not registered in his name, Khan is said to be the owner of Dream Works Inc and Master Touch Carpet Cleaners, located in Bel Air. He is also the director of a timber company and was in the process of completing the purchase of Willems Timber, which was sold by the original owner to businessman, Harry Rambarran. Hanoman said that Khan encountered financial problems and as such he was not able to fully pay Rambarran for Willems Timber. At present there is a lawsuit in the courts over the matter. Hanoman said that Khan has tried his hand in a number of business ventures some were successful while others did not yield the sort of rewards he would have hoped for.
"But the thing is he is a very enterprising person. He used to borrow money to run some of his businesses and many people trusted him," Hanoman said of Khan. Another, of Khan's lawyers, Vic Puran said that it is hard to dispute how the businessman accumulated his wealth and it was unfair for persons to say that he got it through illegal means.
Meanwhile, on the indictment, which alleges that Khan conspired with others between January 2001 and March 2006 to import cocaine into the USA, Puran said that as lawyers they were very dissatisfied that the US had not moved to have Khan extradited. Puran stressed that it has been weeks since the indictment was unsealed, adding that it doesn't take much to have an extradition request made out. Up to yesterday there was no formal request.
US Ambassador to Guyana, Roland Bullen when asked about it on Thursday said it was a matter for the US Department of Justice. Puran said that they are getting frustrated over the sloth in the extradition proceedings while the matter continues to be played out every day in the press. "Khan wants his day in court and we are more than eager to pursue this matter of indictment," Puran told Stabroek News.
Khan has recently made a flurry of statements charging that his indictment was motivated by political considerations. He said that the PNCR, army, police force and US government want to silence him during the upcoming general elections. He also said that he met with officials from the US and the army to discuss the crime situation in Guyana. However, both agencies have said they met with Khan for the purpose of investigating his alleged involvement in drug trafficking and the missing AK47 rifles.