Fifty-five-year old Jairaj Singh who had a kidney transplant operation conducted on him at the Georgetown Public Hospital two months ago, passed away at the High Dependency Unit (HDU) of the medical institution on Monday afternoon.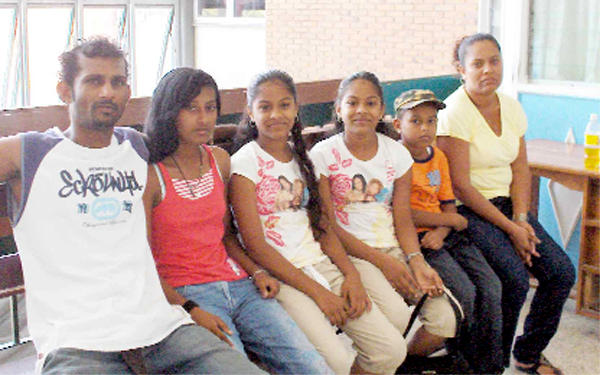 Suraj Singh, left, the eldest son of Jairaj Singh, waiting to see his father and his donor, his younger brother Biraj, at the Georgetown Public Hospital yesterday.
Also in photo are Jairajís grandchildren and Birajís wife (right).
Monday, May 25, 2009
The manís son Biraj Singh, who donated one of his kidneys to his father for the operation, confirmed that his father had passed away around 6:15 on Monday evening. Two weeks ago, the Diamond, East Bank Demerara resident was readmitted to the hospital and another son, Suraj Singh, had informed at the time that his father had suffered several complications since the surgery.
Jairaj Singhís operation was the first of two kidney operations which were conducted on the weekend of May 23-24, the second being that of 56 year old Mohammed Sharrif. Sharrif is reported to be in a hospital in the United States.