The woman who was shot when more than a dozen masked men attacked residents at Mon Desir, Canal Number Two, West Bank Demerara, last Tuesday night died yesterday, her relatives said.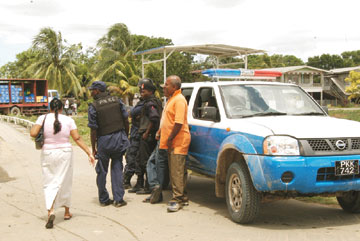 Dead is Kowsilla Mahadeo, 56, of Mon Desir. Relatives said she succumbed before noon yesterday at the Georgetown Public Hospital Corporation, where she was in the Intensive Care Unit.
She was shot in the chest, thigh and ankle when the gunmen attacked her family.

Her husband, Jagoonauth Mahadeo, 60, was shot on his left arm and their son, Churman Mahadeo, 29, a taxi driver, was struck several blows.

The father said Churman returned home about 22:00 h and, after driving his car into the yard, was about to lock the gate when he was confronted by the attackers.

Shots were fired at the car and he was taken to the house and told to tell his mother, who was asleep in the bottom flat, to open the door for Police.

But she did not obey the command after Churman screamed and she realised they were under attack.

The gunmen kicked open the door, beat the husband and shot his wife while their son's four-year-old daughter and his wife, Sunita Lakraj, 30, watched in horror.

The robbers ransacked the premises and stole money and jewellery in the 30 minutes they terrorized the family.

Other families were also terrorized in the gunmen's rampage. Guns used by the gang, have been tied to the assassination of Agriculture Minister Satyadeow Sawh in April this year, Police reported.

AK-47 rifle

The AK-47 rifle found strapped to the body of one of the men, who was found dead in a canal Thursday morning, was one of the 30 reported missing from the Camp Ayanganna, Georgetown headquarters of the Guyana Defence Force (GDF) earlier this year, Police reported.

The links between the gang which killed Minister Sawh, two of his siblings and a security guard, and the gang came from ballistics tests on shells found after the Tuesday night attack, Police said.
Tuesday, October 31, 2006