Spurned man commits suicide
A 31-year-old Mon Repos man succeeded in killing himself yesterday after two attempts when he found out that his young lover had left him for another man.
Thieves-S-police-station Student-robbed ELDERLY_couple Canada-civilian-award Basdeo robbed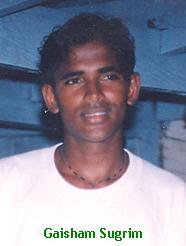 Gaisham Sugrim, 31, was discovered by co-workers at a salted fish-processing factory around midday yesterday.
His twisted body was found in one of the large built-in sinks at the facility, which is used to wash fish before the salting process.
Sugrim had attempted to end his life on Tuesday night by slashing both wrists and the Achilles tendon on his right leg.
However the wounds were not deep enough to cause significant damage and he was taken in by relatives who tried to convince him against such a course of action.
But so devastated was the young man that he left his mother's house unknown to anyone and went to his work place where he finally put an end to his life by strangling himself with a piece of wire – apparently severed after breaking from an overhead beam.
Workers at the fish processing plant made the shocking discovery when they went to clean the sinks.
According to sources, Sugrim might not have been discovered so soon had it not been for the fact that the sink was left uncleaned on Tuesday after the employees had finished working.
One employee told this newspaper that no one would use that area of the plant for days and it was only by chance that they had to go there to finish the cleanup, when they discovered Sugrim after removing a piece of tarpaulin.
A piece of wire was tightly wrapped around his neck and investigators believe that Sugrim had attempted to hang himself.
According to his sister, Savitree, since Sunday, Sugrim appeared to be distressed after complaining that the woman he was living with for the past three years had taken another man.
She said that yesterday after repeated attempts to get the woman to come back home failed, Sugrim decided he could take it no more and slashed his wrists and the back of his leg to end his life.
Residents of the community told Kaieteur News that they had expressed sympathy for the young man when he was alive since he was the victim of what they called emotional abuse.
They claimed that the woman with whom he lived had several affairs and was very disrespectful to Sugrim.
Investigators however are still awaiting a post mortem examination report before closing their case.
Thursday, July 2, 2009